St. Helena Seventh-day Adventist Church
Worship May 8, 2021
11:30 a.m. at the Church and Live Streamed on Facebook
Happy Sabbath!! Welcome to St. Helena Seventh-day Adventist Church Worship Service. 
  Prelude: Tom Sheldon
  Welcome: Dr. Jack DuBosque
  Offering: Disaster and Famine Relief Fund
  Hymn 184: Jesus Paid it All
  Special Music: Joanne Bird
  Sabbath Message: Pastor Robert Kurtz
          Managing Guilt & Finding Relief From Shame
AV/PA: Roland Haylock
Live Stream: Charlie Bird
SCRIPTURE
Genesis 2:25 & 3:6-10  (New International Version) "Adam and his wife were both naked, and they felt no shame. … When the woman saw that the fruit of the tree was good for food and pleasing to the eye, and also desirable for gaining wisdom, she took some and ate it. She also gave some to her husband, who was with her, and he ate it. Then the eyes of both of them were opened, and they realized they were naked; so they sewed fig leaves together and made coverings for themselves.  Then the man and his wife heard the sound of the Lord God as he was walking in the garden in the cool of the day, and they hid from the Lord God among the trees of the garden.   But the Lord God called to the man, 'Where are you?'  He answered, 'I heard you in the garden, and I was afraid because I was naked; so I hid.'"
---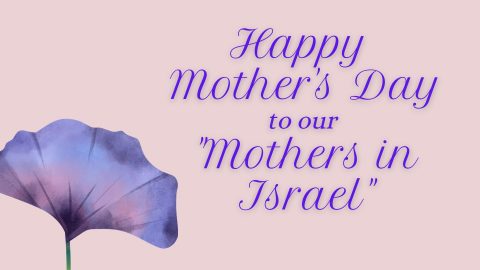 Cherished Women, Mothers in Israel -- You are a blessing to our church family and community.  Your loveliness and grace soften each day. Your nurturing ways heal our wounds. Your soft answers and urgent admonitions slow us down when we begin to fret. Your ceaseless, tireless efforts to make the world around you better and more beautiful, to enhance our every moment, are often taken for granted – and so very welcome. Thank you! For parenting each one of us and each other.  For watching over our little ones as they grow. For your encouraging words. You feed us and clothe us. You care for us in sickness. You place a splash of beauty on a barren table. You stand strong in the face of adversity.  You have been purposely placed among us, for this moment, and we love you.  We pray for you, thanking God that He chose to put you in our lives. Happy Mother's Day. 
---
TODAY'S SCHEDULE
The schedule for this Sabbath again includes a mixture of Zoom and live stream gatherings as well as in-person worship at the church on Main Street, St. Helena with Pastor Robert Kurtz's message,  "Managing Guilt & Finding Relief From Shame."  
Our offering today is focused on Disaster and Famine Relief both in the USA and abroad. Contributions in the last two years assisted victims of the California "Camp Fire" and supplied cleaning buckets which were distributed in North Carolina, Georgia, and Florida during storms over the last two years. Families were able to remain under their roof without fear of mold infecting their households.
Church Website: Online Giving
Offering Dropbox located in the narthex
Mail to the Church: St. Helena SDA Church • 1777 Main St. • St. Helena, CA 94574
Join us for as many of our gatherings as you can! May you have a blessed, fulfilling Sabbath!  You do not need to be a church member to attend any or all of our gatherings. Our in-person gathering will be at the church, 1777 Main Street, St. Helena, CA 94574. 
If you are interested in Bible studies, please contact our church office (707) 963-4461 or office@shsda.org.  Leave a message and someone will get back to you soon!
ZOOM GATHERINGS*
*(please see www.shsda.org/about to access ZOOM meetings)
8:00 a.m. Adult Sabbath School Bible Study: Dan Oliver
9:00 a.m. KidzZoom Sabbath School Bible Study for Children (call the office for access)
9:30 a.m. Adult Sabbath School Bible Study: Jack DuBosque
9:30 a.m. Adult Sabbath School Bible Study: Ed Crouse
AT THE CHURCH
11:20 a.m. Doors open at the church for health screenings. Masks required.
11:30 a.m. Sam Luque presents "Worthy"   Dan Oliver: special music
Our services will conclude shortly after 12:00 noon.
Fellowship outdoors in the parking lot with social distancing.
IN-PERSON WORSHIP Services at the church will be starting at 11:00 a.m. beginning May 15. Doors wll open at 11 a.m., and the service will conclude at noon. 
The LORD"S SUPPER with COMMUNION via Zoom will be conducted next Friday Evening, May 14. Please watch your emails for information. 
SABBATH SCHOOL MEDIA 
GRADUATES
MATTHEW THOMAS, February 22, 2021
Degree: BA in "Homeland Security and Emergency Management"
With Honors: Summa Cum Laude
Institution: University of Arizona Global Campus
LAWREN SLACK, Foothills Adventist Elementary School, 8th Grade, May 26
COBY BRAMHAM Pacific Union College Elementary, 8th Grade, June 3 
LEVI DUCKETT - 8th Grade
MORGAN KENDALL - 8th Grade
---
COMING UP
May 15: Sermon by Josué Rosado
May 22: Sermon by Pastor Robert Kurtz
May 29: Sermon by Pastor Robert Kurtz
---
Elmshaven 
Elmshaven, the last home of Ellen G White, is in need of volunteer docents (tour guides) to work one Sabbath a month from 2-6 pm giving tours. If you are interested please call Elmshaven 963-9039 or email acastanon@sbcglobal.net and let them know when you are available. There are several opportunities available. We are open for tours again in a limited capacity.
TEACHER APPRECIATION for Foothills and PUCE was May 3-7.
Let's show our teachers and staff our appreciation during Teacher Appreciation Week. What a tough year they have endured! There will be a box available if you want to contribute gifts (gift cards, homemade cards from students, etc) for the teachers.
Favorite Colors and Gift Card Ideas
K/1 Mrs. Tammy Priest: Purple & Amazon, Gunigi's, Ross, Marshall's, Kohls
Mrs. Beverly Jones: Blue & Amazon, Gunigi's, Ross, Marshalls, Kohls
2-4 Mrs. Pam Curry: Purple & Local Food, Books, Garden, Candles
5/6 (Principal) Mr. Rob Ingham: Blue & Amazon, Home Depot, Target
7/8 Ms. Rebecca Hernandez: Pink & Costco, Marshalls
Mrs. Holly Racker, Librarian
Mrs. Lizelle Vasquez, Office Manager
---
HAPPY BIRTHDAY to our MAY BIRTHDAY BUDDIES!
May 1 Claude Sterling will be 91
May 2 Jon Cramer 
May 2 Bonnie Ramos 
May 5 Hanna Sacro Culp 
May 7 Coby Bramham (14)
 
May 8 - J.R. Rogers
May 8 - Andrea Lim
May 9 - Brook Hannah
May 9 - Carolyn Mund
May 9 - Jonah Smith
May 10 - Jonathon Stutchman
May 15 - Mary Gilreath
 
May 17 - Conrado Jimenez
May 17 - Robert Lehman
May 19 - Josh Payan
May 21 - Christopher Barberi
 
May 29 - JoAnn Larsen
May 30 - George Sarkiss
May 31 - Connor Hannah
May 31 - Doris Sterling
Leoni Meadows Scholarships: Do you have a young person that would like to go to camp, but you need a little help?  There is a scholarship program that our church board has decided to help the kids get to go to camp.  Please contact the church office asap if you are interested in one of these scholarships.  
Donations needed to help fund campers for Leoni Meadows camp this summer.  Please mark your donations Leoni Meadows scholarship.  
Leoni Meadows.  Summer 2021 will be different from any summer Leoni has ever experienced, with COVID-19 being the main reason for some major changes.  Family camp, base camps, teen camps, and outpost camps will all take place but with a shorter, six-day camp week.  This will allow necessary time to let the camp sit dormant for 24 hours before a deep cleaning of the entire campus as per current cleaning protocols.  Please visit www.leonimeadows.org for details or call (530) 626-3610.  Camp brochures available in the church office.  Post applications and deposits by May 16 for $25 off.
---
Foothills Adventist Elementary School Constituency Meeting for May 11, 7 pm at The Haven Church.
Zoom Link below:
Zoom Link:
Join Zoom Meeting
https://zoom.us/j/91726948205?pwd=dUF0V2JsL2w1T0RwVnJFVkVIUnhGQT09 
Note from School Board
Due to the many unknowns around rebuilding, construction and cleanup on the Foothills site, the Foothills Board has voted to hold school for the 2021-2022 school year on the campus of PUC Elementary.
If you have comments or questions prior to the Constituency Meeting, please contact School Board Chair, Patrick Reeves, or Foothills Principal, Robert Ingham.
---
FAREWELL to PUC President Bob and Judy CUSHMAN
PUC would like to invite you to attend a farewell reception dinner in honor of Bob and Judy Cushman. We want to say thank you and goodbye to this special couple for dedicating 4 years of service and leadership to PUC. We wish them all the best in their future endeavors. This will be a come and go style dinner for the campus and church family (including students). We are still working within COVID safety guidelines, so we ask that you remember masks and social distancing during attendance. Please RSVP by May 26 using the link provided below. We will need to have a count no later than this date in order to plan for enough food. Vegan and Gluten Free options will be available, so please specify on the link. There is also a place on the link to write any special farewell messages to the Cushmans. These will be compiled as a gift and provided for them as they leave us.
In an effort to keep from having a large crowd all at the same time, please see specified times for attending:
Last names beginning with letters A-H: 5:30-6:15 pm
Last names beginning with letters I-P: 6:00-6:45 pm
Last names beginning with letters Q-Z: 6:45-7:30 pm
RSVP:
https://forms.gle/iuasWVXSf8BeJtbTA
---