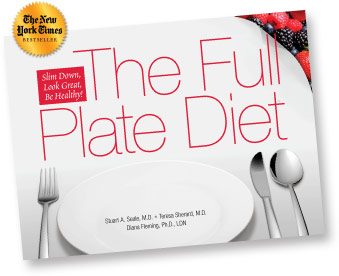 The Full Plate Diet: Slim Down, Look Great, Be Healthy! is a book written by Stuart A. Seale, Teresa Sherard and Diana Fleming.
The Full Plate Diet entails following the directions we were taught as children of eating the foods mom told you to eat. The key to this program is eating foods high in dietary fiber.
Portion control is key with the Full Plate Diet. You won't feel deprived because you won't be eating tiny portions. The Full Plate Diet commences with helping you making small and gradual changes. As you progress, you continue implementing changes that give big results such as losing weight, improving digestion, gaining more energy and reducing disease risk.
There are three stages outlined in The Full Plate Diet and each stage has three steps to move you closer to the recommended 40 grams of fiber per day. Most Americans consume just about 10 to 15 grams of fiber each day. Foods that lack fiber also tend to be less nutritious and higher in calories and fat. Hence, by following the Full Plate Diet, you can expect to lose weight while giving a boost to your health.
The St. Helena Church has successfully held a program using this book, and we highly recommend it for weight balance, great GI-tract enhancement, and general all-over feel-good results.